Tell us more
about your car
TELL US YOUR CAR'S SPECIFIC FEATURES AND CONDITION. IF YOU ARE INTERESTED, PLEASE DO NOT HESITATE TO SEND US YOUR INFORMATION!
Receive an
offer in minutes
SAME DAY CASH PAYMENT, NO LISTING FEES OR COMMISSIONS. ZERO RISK TRANSACTION
Get Your Cash in
Less Than an Hour
OUR SALES TEAM WILL WORK TO GET YOU THE BEST POSSIBLE PRICE FOR YOUR VEHICLE, GUARANTEED!
Welcome to

Motorcars Express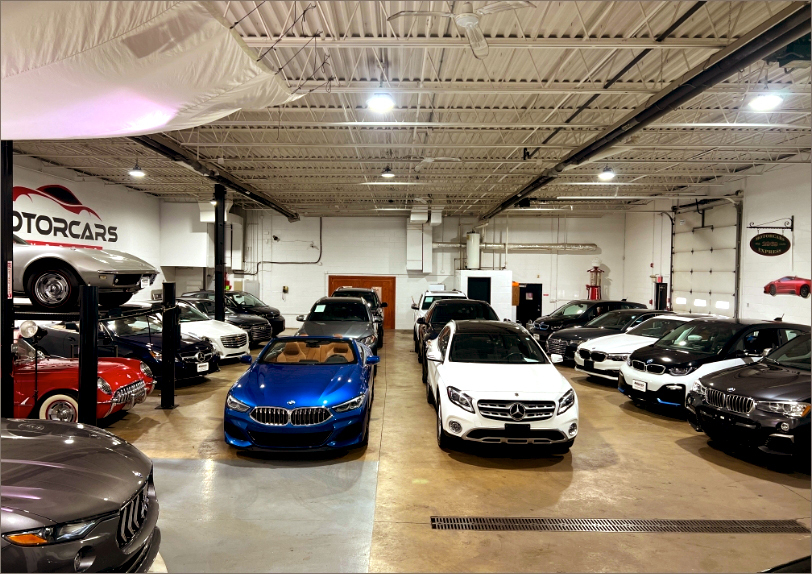 Call Motorcars Express at 708-385-2902, email us or stop by our dealership today.
We are conveniently located at 12400 South Keeler Ave Alsip, IL 60803.
You can expect Motorcars Express to deliver the purchase experience you've always wanted and deserve!
About us
We have been in business with the same owner for over 40 years. The owner personally drives and buys every vehicle we sell. Purchase with confidence from a dealer with stability. We strive for great customer service and experience. Our promise is to keep delivering award-winning service and value that is more possible in our more intimate, warming customer environment.
Our team consists of employees who care. We take the time for on-going training to be certain we are able to meet your needs with full confidence. We strive to provide the highest quality and user-friendly service available in the Midwest. Ready to purchase your future vehicle?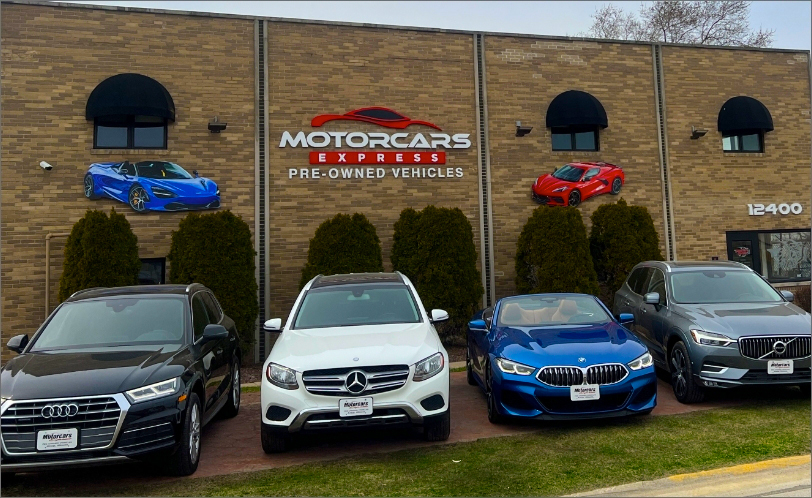 The guys at Motorcars Express are amazing to work with. Drove 4 hrs there to purchase a BMW. Car looked even better than in the pictures. Very comfortable environment, didn't feel pressured. Ty even helped me drop of my rental and gave me a ride back. Did have a small service situation come up, very minor and they even took care of the bill on it. Mike was also very friendly and easy to work with. Highly recommend considering them for your next car.

Mark helped us out with a great trade in value and car we drove away with that day! Mike made the financing super easy! Great guys, come see them first!

(I wrote this months ago - but for Motor Car USA... The wrong company)I wanted to wait a while before I made my post about this place... Let me tell you something, they are great people with reliable vehicles! I purchased a Mercedes from them and traded in my current Mercedes. They gave me an amazing trade in value for my car and sold me the car that I was looking for, for a great price. the owner, mark - is a class act. You dont find many quality car salesmen like mark.

customer service sales person was great successful deal

I love this dealership! You definitely don't feel overwhelmed when buying. They're not pushy at all and they make you feel as comfortable as possible. I loved Clay and Barbara did an amazing job in answering any questions that I had in terms of finance! Highly recommend!!

Awesome dealership and great people to work with. Clay and Mark were very great through the whole process. Very simple and very minimal time compared to other big name dealerships. Would definitely recommend Motorcars Express to anyone in the market for a high quality used vehicle. They make the car buying experience very easy and efficient. Thanks again Motorcars Express team. Look forward to working with you in the future also.

Highly recommend this place if you are looking for a new vehicle. I had been looking for over 6months for a new car from Wisconsin to central Illinois. Never really felt comfortable at car dealerships. I saw a car at motor cars express that was advertised on line. Went in there not expecting anything but from the moment I stepped foot in their office I felt super comfortable, not pressured at all. I test drove 2 suvs that were amazing quality And best of all at a great price!! All of my questions were answered straight up. I can't rave enough about Clay. Clay was very professional and honest and super helpful! He helped get a great rate on my car loan. It was just an amazing experience. If u are looking for a car this is the place to go!! Ask for Clay! U won't regret it!!

Great staff great service they will work with you and make sure you walk out there driving higley recomend this place.

I purchased my very first car from Motorcars Express, the experience was amazing Barbara, Clay and the owner Mark are phenomenal. I found this car online and they worked tirelessly to make my dream come true. They go the extra mile and then some to make sure you're well taken care of. I would strongly encourage anyone who is in the market for a quality used car to give them your business they make you feel like family from the moment you walk into the dealership.

My daughter and I travelled all the way from Texas to buy a car at Motorcars Express. We were provide with a fair price and excellent customer service--the two things we needed. It was a great experience.

This place was a great find. We needed to buy a car while living abroad. They had what we were looking for at a good price. In talking with their team, they recommended we use a third party to check the car out to be sure. We gave that a try and the car came back clean on all counts, when my wife picked it up, it was exactly as expected. The team even went so far as to stay late on a weekend to give my wife extra time to arrive from the airport to pick up her new vehicle. So not only was the staff showing some real integrity, they also had great service and sold us a great used car. We will be looking to them for our next purchase even though they are a few hours away from where we now live.

I would highly recommend a car from Motorcars Express! We had a great experience finding, test driving, and buying a family van. Everyone was very kind, courteous, and helpful in our vehicle purchase! Thank you!!